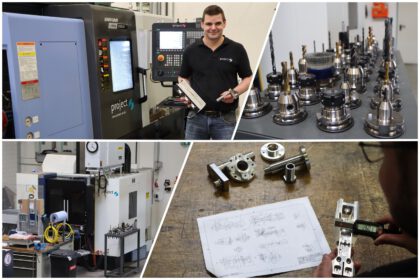 Marco Ingenbleek presents his department
Many people are unaware that external parties can also benefit from the more than 30 years of expertise project has amassed in parts production. We spoke to Marco Ingenbleek, 31, who manages the mechanical workshop of the automation expert from North Rhine-Westphalia.
Why should companies have their parts manufactured by you?
project is, of course, part of the special machine engineering sector and has been constructing machines for decades for very specific solutions. This means that as an internal supplier, we have extensive experience, including experience in the production of complex components. For example, taking last year on its own, we produced considerably more than 1,000 different product types – for external parties as well. Naturally enough, inquiries frequently involve five to 20 specimens, but we also receive orders for medium-sized batches…
How big is your team, what machines do you use and what are you currently producing?
Four skilled employees are currently working with me, and we can usually draw on the support of two apprentices. Our machinery includes technology such as a state-of-the-art CNC machining centre, a 3-axes milling machine, a conventional lathe and a CNC lathe with a counter spindle, milling axis and bar loader. We are currently working on parts for our PROPAL R110 palletiser for a company in the metal industry and parts for the PROGRIP/PROPAC solution for a Chilean subsidiary of a world famous beverage manufacturer.
What attracts you to your work, and why should school leavers aspire to a career in mechanical production?
No day is like the other, as this field is extremely diverse. It's the appeal of always seeing something new, continually learning something and, also, optimising processes. And, of course, it's always a pleasure to see what you have achieved. That's why I love to walk through our workshops. And, to a certain extent, it's probably in my blood… I already had my own workbench back when I was a child, and technical lessons were always my favourite in school.