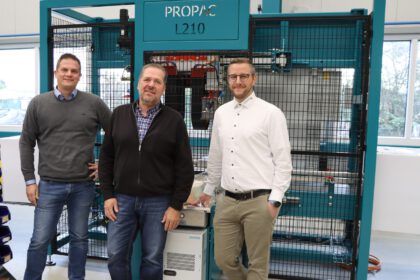 Kranenburg/Oberboihingen, 16 November 2022 ●  Project Service & Produktion GmbH, a machine manufacturer from North Rhine-Westphalia (NRW) / Germany, has gained a partner for the distribution of its products in South Germany – the Swabian company Fischer Verpackungstechnik. Founded in 2005, Fischer Verpackungstechnik will distribute the entire product range of the Kranenburg-based company, which is particularly known for automation from the final packaging stage onwards.
"The partnership with Project Service & Produktion GmbH opens up further development opportunities for my company, as these final packaging solutions enable us to close the automation loop for packaging", says Jörg Fischer, Managing Director and owner of Fischer Verpackungstechnik. He has already sold machines to companies from over 50 different industries, such as the food, automotive, textile and construction industries or e-Commerce. "We used to deal predominantly with the trade of packaging machines, mainly for foil and paper packaging, in addition to also servicing or modifying equipment if required." Fischer gives the example of ball bearings, oily products which are shrink-wrapped in a thin film using machines from his previous portfolio. Thanks to the partnership, he will now also be able to offer solutions for the automation of final packaging in cartons, for example with the Propac or by palletising cartons with the Propal, all the way to solutions for warehouse integration; 7-axis lightweight robots are now also part of the portfolio with which Fischer Verpackungstechnik is advancing automation processes for its customers.
"The cooperation with Fischer Verpackungstechnik is a classic win-win situation that allows both Fischer Verpackungstechnik to expand its portfolio and us at Project Service & Produktion to increase our regional presence in South Germany. Although our products are used worldwide, we still see a lot of business potential within Germany, particularly in the south", underlines Sebastian Münnekhoff, one of the two managing directors of the company.