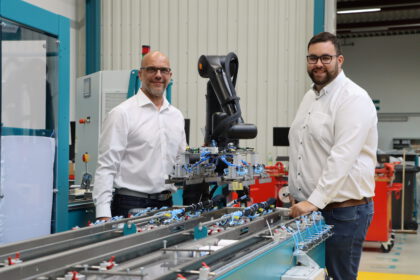 The idea is simple – why not giving the responsibility for the lead of the service team to two persons instead of one, when there two excellent colleagues available for this job? project is now entrusting the lead of the service area to two long-standing colleagues. "The tasks in the service department have been growing steadily over the years, so we were very fortunate that there were already two excellent candidates for this position – Frank and Luca", reports Jan Hanenkamp. Previously, he was responsible for this task in addition to his position as Managing Director.
Luca Virgillito, who has been at project since 2008, is responsible for the preparation and coordination of the internal service team.
Frank van Dalen, who has been at project since 2006, makes a lot of customer visits, offers his support on construction sites and is on the go in Germany and abroad significantly more often than his colleague.
"This roughly describes how our responsibilities are divided up, but our responsibilities may overlap in this regard. We are both able to fill in for one another if needed. This is good to know and convenient if one of us is on leave or sick", says Luca Virgillito. Both Luca and Frank have set themselves the goal of driving forward the digitisation of processes and intensifying customer support both on and off site. When talking to the two colleagues, you can really feel their enthusiasm for the work and a similar "spirit": Frank's motto of "Nothing is impossible" perfectly complements Luca's own motto of "There are no problems, only tasks!"